XCMG Future Creator: XCMG Apprentice Season 8 Brings Focus to Intelligent Manufacturing and Green Equipment
XUZHOU, China, Nov. 30, 2023 /PRNewswire/ -- Themed "XCMG Future Creator," the eighth season of XCMG Machinery's (SHE:000425) international talent development program XCMG Apprentice has successfully wrapped up a one-week workshop at XCMG's headquarters in Xuzhou. Six machinery equipment operators, coming from Brazil, Uzbekistan and other countries, visited XCMG's intelligent manufacturing (IM) factory, operated a selection of green and intelligent equipment, including excavators, cranes, and port machines.
During the workshop, XCMG's experts and senior staff led the apprentices to explore the group's achievements in IM, high-end product development, R&D, and global marketing.
XCMG demonstrated the IM capabilities of its loading machines with a focus on intelligence and sustainability. The apprentices not only learned about the pure electric products, toured the IM factory, and also test drove and operated the equipment, including the unmanned loader XC918-EV, remote control loader XC958, super-high-power mining grader GR5505, and skid steer loader XC7-SR07E through an S-turn.
At the heavy equipment division, the apprentices experienced the world's largest all-terrain crane, theXCA3000,and remotely operated the unmanned XCA160L8 crane, which excels in maneuverability and reliability. The apprentices also visited the Ma'anshan Yangtze River Bridge, which adopts the XGT15000-600S tower crane that tackles over 60 core technologies and 20 worldwide technical problems to guarantee superior performance for mega-scale construction.
The apprentices also operated AGVs developed for ports, tried shooting balls into baskets by driving a telescopic boom forklift, and tested several new energy and unmanned trucks for mining, concrete, and more.
At the IM factory, the apprentices explored various production lines and workshops equipped with leading intelligent technologies. The port machinery factory showed the 80 production processes, an automatic welding machine, an intelligent tire bolt tightening machine, and more. While at China's most intelligent heavy truck factory, the apprentices learned about the latest IM technologies, including intelligent coating inspection, robots for automatic punching and welding, AGVs, and more.
Before the one-week workshop in Xuzhou, XCMG Apprentice Season 8 hosted a series of on-site trainings and experience events themed "Dream Mechanical Life" in Brazil, Poland, India, Uzbekistan, and China.
Launched in 2016, XCMG Apprentice, an immersive experience and innovation education program, offers young talents from around the world the opportunity to learn about XCMG, its innovative technologies, and global influence while promoting international exchange in the construction machinery industry.
Photo - https://mma.prnewswire.com/media/2289351/WechatIMG3004.jpg
View original content:https://www.prnewswire.co.uk/news-releases/xcmg-future-creator-xcmg-apprentice-season-8-brings-focus-to-intelligent-manufacturing-and-green-equipment-302001892.html
Purchase offer to holders of SFPs issued by Astaris S.p.A....
ZÜRICH, Switzerland, Dec. 06, 2023 (GLOBE NEWSWIRE) -- On 2 November 2023, N+V AG launched a voluntary tender offer for participating financial instruments (the "SFPs") with ISIN IT0005422925 issued by Astaris S.p.A. (ex Astaldi S.p.A.). The offer was amended as of 1 December 2023.
Holders of SFPs ISIN IT0005422925 are invited to participate in the offer published by N+V AG.
Detailed information is available at www.nv.ag or can be requested by e-mail kontakt@nv.ag
bwin data center: Seria A, la Juve tenta l'aggancio alla...
Roma, 6 dicembre 2023 – Il ponte dell'Immacolata conduce gli appassionati di calcio alla quindicesima giornata di Serie A: venerdì 8 dicembre riflettori puntati sulla sfida di alta classifica Juventus-Napoli. I piemontesi vogliono tenere il passo dell'Inter capolista, mentre gli uomini di Mazzarri cercano un pronto riscatto dopo il ko inflitto proprio dai nerazzurri. Secondo i dati analizzati dal bwin data center (www.bwin.it) il 75% dei tifosi ritiene che saranno i padroni di casa ad avere la meglio, mentre solo il 10% auspica una vittoria partenopea. Tra i risultati esatti maggiormente puntati emergono infatti il 2-0 al 21%, l'1-0 al 19% e il 2-1 al 14%. Osimhen (Napoli), potrebbe aprire le marcature secondo il 28% degli appassionati, seguito dall'avversario Vlahovic (17%). Per questo scontro l'Over 2,5 è dato all'82%.
Sabato alle ore 18:00 si giocherà il derby regionale tra Atalanta e Milan, al momento rispettivamente ottava e terza in classifica. Il match potrebbe terminare con la vittoria rossonera secondo il 63% degli appassionati, mentre il 17 % auspica la vittoria degli uomini di Gasperini; pareggio puntato al 20%. Tra i risultati esatti spiccano l'1-2 al 21%, l'1-1 al 19% e l'1-3 al 15%. Olivier Giroud (Milan) potrebbe sbloccare le marcature (20%), mentre l'atalantino Lookman raccoglie il 14% delle preferenze. Questa sfida si preannuncia molto interessante, infatti l'Over 2,5 è giocato al 90%.
Il sabato si conclude alle ore 20:45 in un San Siro ancora sold out per Inter-Udinese: il 98% degli appassionati è convinto che saranno gli uomini di Inzaghi ad avere la meglio. Sensazioni confermate dai risultati esatti maggiormente quotati: il 2-0 puntato al 24%, il 3-0 al 18% e il 3-1 al 15%. Il 43% dei tifosi è convinto che l'attaccante interista Lautaro Martinez segnerà il primo gol dell'incontro, seguito dal compagno di squadra Thuram (16%). Si attende una partita ricca di reti con l'Over 2,5 giocato al 94%.
Nel posticipo serale di domenica, Roma e Fiorentina, attualmente distanziate da un punto in classifica, tentano di proseguire la corsa alle Coppe europee. L'87% dei tifosi ritiene che i giallorossi potrebbero conquistare i tre punti, mentre il 10% auspica un pareggio. Tra i risultati esatti maggiormente quotati emergono l'1-0 (28%), il 2-1 (18%) e lo 0-0 (10%). Per il match sul prato dell'Olimpico l'Over 2,5 è giocato al 92%.
Ufficio stampa MSL - Elena Oricelli – 02 773361 - elena.oricelli@mslgroup.com
Over 800 local and international academics and scientists...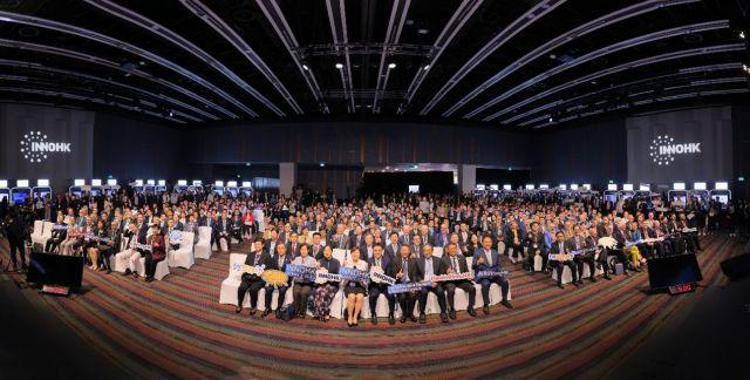 Showcasing the latest developments in life sciences, AI and robotics, paving way to Hong Kong as an international science and research hubShowcasing the latest developments in life sciences, AI and robotics, paving way to Hong Kong as an international science and research hub
HONG KONG SAR - Media OutReach Newswire - 6 December 2023 - Organised by the Innovation and Technology Commission and the Hong Kong Science and Technology Parks Corporation (HKSTPC), InnoHK Summit 2023 was held successfully in Hong Kong Science Park today (December 6), attracting over 800 world-class academics, scientists, representatives of renowned institutes and industry leaders from Hong Kong and around the world. Under the theme of "From Collaborative Research to Real World Impact", the Summit aims to showcase the latest innovation and technology (I&T) developments and breakthroughs of InnoHK, Hong Kong's leading role as a global research collaboration hub, and its strengths in commercialisation and talent development.
The Chief Executive, Mr John Lee, gave his welcoming at the Summit by video. Mr Lee said that the InnoHK initiative strives to build a global network of mutual learning and advancement, and the Summit is testimony to the importance attached by the HKSAR (Hong Kong Special Administrative Region) Government to international collaboration for knowledge advancement, addressing global issues, and transforming scientific findings into innovations that benefit humankind. He encouraged the Summit's participants to draw on the spirit of collaboration, and make lasting connections that would lead to more scientific breakthroughs and innovations in Hong Kong.
Speaking at the forum, the Secretary for Innovation, Technology and Industry, Professor Sun Dong, said that Hong Kong has always been an open cosmopolitan with a diverse community and remains the only place in the world where global connectivity and the China advantage come together. With the staunch support from the motherland's National 14th Five-Year Plan, and the opportunities brought by the development of the Guangdong-Hong Kong-Macao Greater Bay Area, Hong Kong is well positioned for I&T development. The Chief Executive had announced the establishment of a new InnoHK research centre focusing on Generative AI in his newly released Policy Address and the preparation for the establishment of the third InnoHK research cluster focusing on advanced manufacturing, materials, energy and sustainable development would commence next year.
The Founding President of the Hong Kong Academy of Sciences and Chairman of the InnoHK Steering Committee, Professor Tsui Lap-chee, pointed out in his speech that the exchange of knowledge and ideas by people from different parts of the world has always been crucial to stimulating advances in science and technology while turning scientific findings into solutions with real-world impact requires the collaboration among the academia, industry, government and civil society that transcends traditional sector boundaries. He emphasised that InnoHK encapsulated the two dimensions of collaboration by connecting institutions and researchers across Asia Pacific, Europe and North America and encouraging them to work with the industry to translate their research outcomes into applications.
The Chief Executive Officer of the HKSTPC, Mr Albert Wong, also spoke at the forum. He stated that InnoHK is unique due to Hong Kong's high concentration of top researchers and universities, its international connections, and robust government support for I&T. HKSTP is committed to focusing on research and its practical application. It will continuously enhance the ecosystem by attracting more participants, investment funding, and additional resources to solidify Hong Kong's role as a global powerhouse of innovation and technology.
The Summit invited representatives from 28 research laboratories of two InnoHK clusters, namely Health@InnoHK, focusing on healthcare technologies, and AIR@InnoHK, focusing on artificial intelligence and robotics technologies to present their latest breakthroughs resulted from their collaborative research. They also shared the challenges faced, and set out targets and vision for future researches.
Also, the summit provided a platform for experts from leading local and international universities and industry representatives to exchange valuable insights on I&T topics, covering life sciences' research and development (R&D), artificial intelligence and commercialisation of R&D outcomes, during three panel discussions. They also discussed and exchanged views and ideas on the latest trends and perspectives of I&T research and development to harness the collective wisdom and insights that helps lay solid foundation for Hong Kong's transformation into an international I&T hub.
InnoHK is a major I&T initiative of the Hong Kong Special Administrative Region Government to develop Hong Kong as a hub for global research collaboration. Two research clusters have been set up at the Hong Kong Science Park, namely Health@InnoHK, focusing on healthcare technologies, and AIR@InnoHK that focuses on artificial intelligence and robotics technologies. InnoHK involves seven local universities and research institutions as well as over 30 top-notch institutions from 11 economies, pooling together 2,500 researchers locally and from all over the world.
Hong Kong Science and Technology Parks Corporation
Hong Kong Science and Technology Parks Corporation (HKSTP) was established in 2001 with a mission to position Hong Kong as an international innovation and technology (I&T) hub. HKSTP has created a thriving I&T ecosystem supporting over 10 unicorns with more than 13,000 research professionals and over 1,500 technology companies from 24 countries and regions focused on healthtech, AI and robotics, fintech and smart city technologies.
We offer comprehensive support to attract and nurture talent, accelerate and commercialise innovation for technology ventures on their I&T journey. Our growing innovation ecosystem is built around our key locations of Hong Kong Science Park in Shatin, InnoCentre in Kowloon Tong and three modern InnoParks in Tai Po, Tseung Kwan O and Yuen Long. The three InnoParks are realising a vision of new industrialisation for Hong Kong, where sectors including advanced manufacturing, micro-electronics and biotechnology are being reimagined for a new generation of industry.
To support Hong Kong's future development and its growing demands of the I&T industry, HKSTP is actively connecting the city with Shenzhen. This aims to strengthen cross-border exchange, attract technology companies as well as talent from around the world, helping them go global by exploring the mainland China and overseas markets.
Hong Kong Science Park Shenzhen Branch in Futian, Shenzhen, opened in September this year with a gross floor area of 31,000 square meters. The two buildings provide both dry and wet laboratories, co-working areas, conference and exhibition spaces, and more. We will focus on attracting enterprises in seven key areas: Medtech, big data and AI, robotics, new materials, microelectronics, fintech and sustainability.
Through our infrastructure, services, expertise, and network of partnerships, HKSTP will help establish I&T as a pillar of growth for Hong Kong, while reinforcing the city's international I&T hub status as a launchpad for growth at the heart of the GBA innovation powerhouse.
More information about HKSTP is available at www.hkstp.org.